Strabismus Surgeries Videos
Cataract Surgeries Videos By Dr Sudhir Singh
Manual Small Incision Cataract Surgery Pages
Management Of Difficult Cataract Cases Videos
Glaucoma Surgeries Videos By Dr Sudhir Singh
Oculoplastics
Rare Cases
Pterygium Surgeries Surgeries Videos By Dr Sudhir Singh
Dr Sudhir Singh YouTube Channels
Dissociated vertical deviation (DVD)
Dr Sudhir Singh,MS
DVD was described in George Stevens in 1895.He atributed"alternating vertical strabsmus".

Dissociated vertical deviation (DVD) is a poorly understood vertical deviation which may remain latent (compensated) or manifest (decompensated). The deviation may be symmetrical or asymmetrical, and small or very large, measuring more than 20 prism diopters.
The dissociated eye not only elevates but excycloducts. When the fellow eye is covered, the dissociated eye returns to primary position with a corrective incycloduction movement.

With bilateral DVD either eye moves down to refixate after removal of the cover. The condition is bilateral in most instances but most often asymmetric in magnitude.

DVD may occur alone or in combination with a true hyperdeviation.

Unlike in paralytic vertical strabismus, the degree of elevation of the dissociated eye is often the same, regardless of whether the eye elevates from adduction, primary position, or abduction.

If neutral filter is placed before one eye while the other eye is
occluded, the eye behind the cover makes a gradual downward movement as the density of the filter is increased in front of the fixating eye (Bielschowsky phenomenon).

Surgical Treatment : large superior rectus recession that is usually bilateral. When DVD is associated with inferior oblique overaction, anterior transposition of the inferior oblique is effective. Inferior rectus resection may be done as a secondary procedure.
Unilateral Surgery
(

If vision is not equal due to residual amblyopia, one can do unilateral surgery in the amblyopic eye}
| | |
| --- | --- |
| DVD (in Prism Diopter) | Superior Rectus Recession |
| 10 pd | 5 mm |
| 11-15 pd | 6 mm |
| 16-20 pd | 7 mm |
| 21-25 pd | 8 mm |
| > 25 pd | 9 mm |
Bilateral Surgery
(If vision is equal, you should do bilateral surgery)
| | |
| --- | --- |
| DVD (in Prism Diopter) | Superior Rectus Recession |
| 10 pd | 7 mm |
| 11-15 pd | 8 mm |
| 16-20 pd | 9 mm |
| 21-25 pd | 10 mm |
| > 25 pd | 10mm |
Surgical Management of Dissociated Vertical Deviation (DVD) (With Voice Over) Video
Concomitant Strabismus
Esotropia
Exotropia
Non Comitantant Strabismus ( Paralytic)
Third Nerve Palsy
Forth Nerve Palsy
Sixth Nerve Palsy
Non Comitantant Strabismus ( Restrictive)
Duane's Retraction Syndrome
Brown Syndrome
Double Elevator Palsy Infantile Esotropia A Pattern Deviations V Pattern Deviations Dissocited Vertical Deviations(DVD)

Dissocited Horizontal Deviations(DHD)

Restictive Thyroid Myopathy
Dr Sudhir Singh YouTube Channel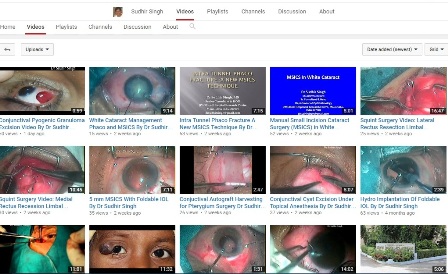 Download Free Full Version Of SquintMaster Software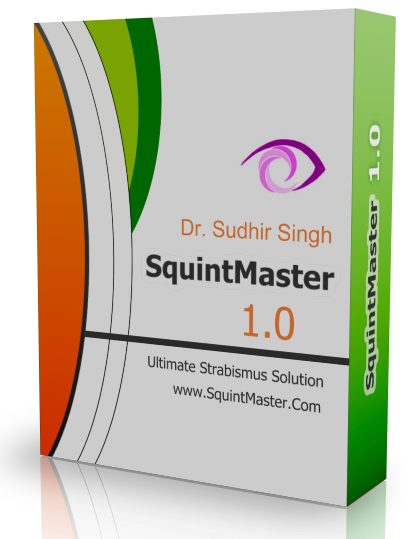 Salient Features Of SquintMaster Software
Suggests diagnosis and sub type of deviations

Important tool for patient counseling

Suggests surgical options

Creates simulated image of deviations

With help of squint simulator and calculator user can calculate surgical dose ( Amount of surgery)

AC /A Simulator And Calculator

A V Patterns Simulator And Calculator

Parks 3 Step Test

Knapp's Classification

Simulator for ductions,versions and grades of oblique muscles over action

Classification and management of Duane's Retraction Syndrome

Management of third nerve palsy

Management of forth nerve palsy

Management of sixth nerve palsy

Management of Browns Syndrome

Management of double elevator palsy